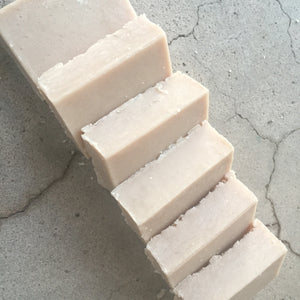 Years ago, I developed an allergy to nickel and fragrance oils. Although I could no longer wear my wedding ring, I decided to start making skin care products with all natural, organic ingredients and only essential oils that smell great and help the system.
This shampoo is the bomb! Imagine no residue after a shampoo, nothing weighting your hair down, no plastics, no petroleum, no need for conditioner??? My whole family loves the shampoo and I have used it for years.  My scalp is healthy, hair is curly, and it smells great.  Essential oils of rosemary and bergamot benefit the hair and scalp.
4 ounce bar
Ingredients:  Apple Cider Vinegar, Canola Oil, Coconut Oil, Castor Oil, Sodium Hydroxide, Avocado Oil, Mango Butter, Essential Oils.