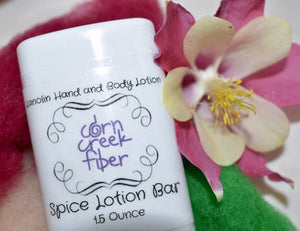 Years ago, I developed an allergy to nickel and fragrance oils. Although I could no longer wear my wedding ring, I decided to start making skin care products with all natural, organic ingredients and only essential oils that smell great and help the system.
All good lotions should be made with lanolin. This stuff naturally occurs on sheep fiber.  Usually, fiber gets washed and you rinse away all that great conditioner.  Spinners, will spin unwashed fleece - spinning "in the grease" - and end up with the softest hands for days, and a really great yarn.
A little bit goes a long way.  This lotion bar is made with organic ingredients and therapeutic grade essential oils.  I keep this lotion in my purse for emergencies. It is excellent for rough hands and absorbs quickly.  Plus it smells terrific :)
Of all the skin care products, this is the newest addition and took the longest to get right.  Too oily, too hard, too soft... now it's one of my favorites that goes everywhere with me.
1.5 ounces
Ingredients: Cocoa Butter, Lanolin, Coconut Oil, Beeswax, Shea Butter, Essential Oils